Havin' A 160 MPH Blast !!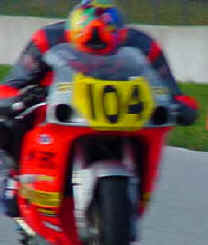 Michael Brennan of Palmyra, Wisconsin
At 140 MPH he tucks in, shifts into 6th and accelerates up to 160 MPH + by the end of Road America's super long front straight !


Mike Sponsors:
All Pro Motor Sports, Michelin, Spectro Oils, Factory Professional Tuning Components.
.Nice lookin' bike ... Mike !!
.
.
.
.
Click on the small pics to enlarge!



Road America Factoid

4 Miles of Fun...
It's The Longest Racetrack in North America!



Mototune's Darin Sewell, of Wauwatosa, Wisconsin
" I'm freakin' out dude...this is my first roadrace ever ! "
/


Jon Clements' Turn 5 Crash !!

| | |
| --- | --- |
| What's that blue stuff in the back of Don Dechant's trailer ?? | Roger Hendricks waits for the warm up lap. |