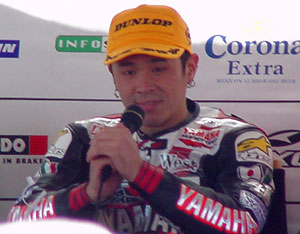 Noriyuki Haga..."The Samurai of Slide" has the valuable ability to ride fast and promote his sponsors in a fun way. His positive attitude makes him a hero !

Yamaha / West Cigarettes / Dunlop Tires / Alpine Stars / Motul Oil / NGK Spark Plugs


Haga Outmaneuvers Pesky Journalist

The press conference was going great until a reporter asked Noriyuki Haga if he was having tire problems in the race.
Nori paused for a long moment, smiled and said...
" ...I'll be putting on fresh tires for race two ! "
The audience burst out laughing....

Haga's Cool !