Here's where the Gasket Goo ends up...
,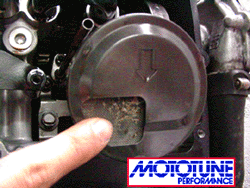 ...clogging the oil pick up screen !

As the screen fills up with crud, the motor has to work harder to pump the oil, which is bad for power! Eventually the motor will starve for oil and spin a rod bearing.....

Expensive !!

---
REMEMBER BOYZ:


"Careful with that
Gasket Goo!"